This is our first guest post from Cayle McCreath, having made the Top 8 at The Calling Sydney and leading the way at the many Road to Auckland 10k events Cayle is no stranger to this game. His insights into the mechanics and deeper workings of the game have been pivotal in the opening few months of Flesh and Blood events. We hope to have Cayle as a regular feature at Fab Empire so please show him some support. (Nic-fabempire)
Swinging momentum 

One of the hardest parts of any trading card game, is knowing when to be the aggressor or when to sit back and defend while waiting for the right moment to strike. In flesh and blood tcg, there is no real hand advantage / board advantage like other games where its easy to see what player has the advantage, instead we have momentum .

Momentum in this game can be anything, it can be racing your opponents life total, or forcing them to defend therefore leaving them with no cards or resources which stunts their ability to apply real pressure. The risk in this though is allowing your opponent time to set up a momentum swinging turn, usually by taking a chunk of damage that allows them the extra card(s) to start to apply pressure or allowing them to set up a key card in their arsenal to start clawing back into the game (utilizing the arsenal better than your opponent is a huge advantage when it comes to determining the outcome of a game) The real skill in Fabtcg is knowing when and how to do this.
In this article I'm going to go over what I think the 3 best momentum swinging cards are and a scenario where they force cards / damage or buy you a turn to swing the momentum to put you back on the front foot!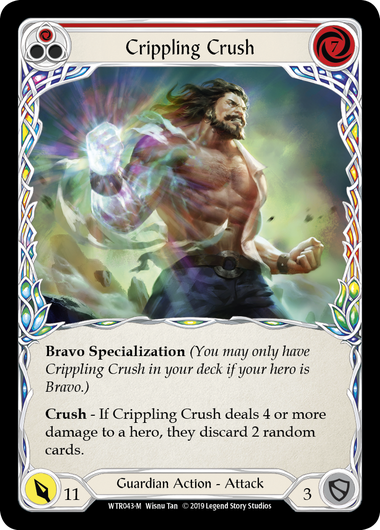 1) Crippling Crush! It's no secret I'm a control player at heart, but with a card this insanely strong its hard not to! To understand how good this card is, all we have to do is look at its stats. 7 cost (which is normally 6 due to a surge token) is effectively 2 cards to play it when the deck is constructed properly. Having 2 cards to pay for it and crippling itself is very hard to pull off without taking massive damage, but played from the arsenal the 3 card hand becomes 2 making it very easy to pull off whilst defending with 2 cards to minimize damage. Crippling crush attack for 11, only needing to strike for 4 to crush is effectively forcing a 3 card block to avoid crush which puts you back into the driving seat, only having to defend with a 1-2 card hand allowing you to then swing a hammer, gain an arsenal and get back into the game.. Success! Quite often people get caught up in crippling crush and think he has to be dominated to swing, more often then not stealing the momentum is a much better play!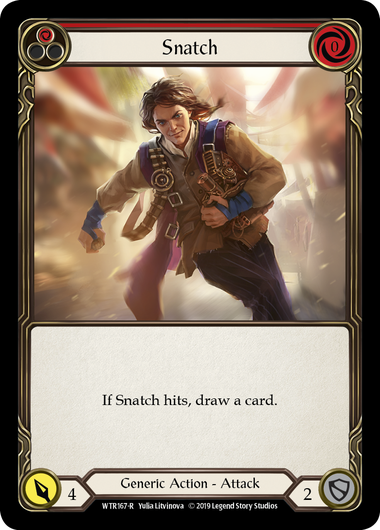 2) Snatch red! This card is absolutely busted, 0 cost attack for 4 that forces a 1-2 card block or it replaces itself is huge. We all know how good razor reflexes is with the card, but sometimes you can't line that play up, but to steal momentum and get back into the driving seat goes like this.
Play snatch in arsenal after your action phase and end your turn. Defend aggressively with your whole hand if need be!
Play snatch from arsenal and force the block! Otherwise its free damage and a free card!
While playing snatch this way is not as impactful as a crippling crush, what it does do is asks the question whilst preserving your life total and putting the pressure on your opponent to make a decision. With every decision there is a possible error rate, every mistake they make will pull you back into the game!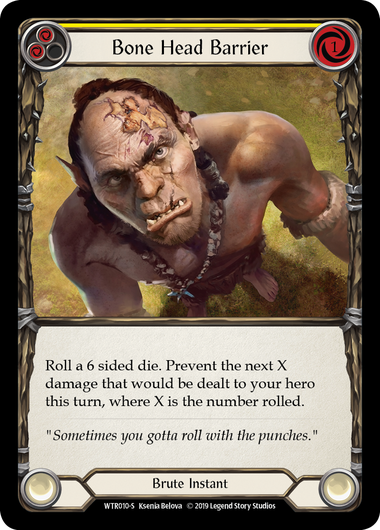 3) Bone head barrier, controversial I know, but align it with 3 tunic counters and a dodgy die roll and it's a huge stop to your opponents turn! This is one of the few cards in WTR that is getting criminally under played, probably due to people not understanding brute yet.
So many things about this card make it good that it's easier to list reasons why it's good.
*Instant speed, play around shunt and reckless swing.
*Doesn't count as defending, plays around intimidate and dominate.
*Can completly stonewall a ninja players turn!
*Pitches for 2 in brute which is enough to power Romping club.
*Prevents arcane damage 😉
Simply being able to play this card normally allows you to keep around about 2 card hand, allowing you to swing your club and get an arsenal down to stabilize.
Not as momentum swinging as the other 2 cards but the ability to have a combat trick to stop your opponents momentum is where BHB really shines.

Every card has multiple ways it can be played in varying situations, but knowing when to defend with knowledge of how your opponents deck works and when to react is huge when it comes to picking your moment to swing the momentum.
---
---